Testimonials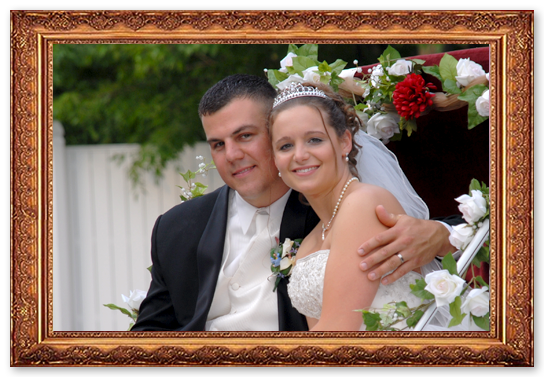 "I want to thank you so much for everything. The place was beautiful, the staff was great; everything was WONDERFUL!!! Everyone raved about the wedding, especially the food. Jon and I wish that we had a wedding to go to there soon because we both weren't able to enjoy the delicious food as much as we would have liked. You should open a restaurant! We woke up the next morning craving the pasta!! I wish we could come to the taste tests because we would be there in a second! I just recently referred a co-worker to your hall (which she said she booked because she loved it so much) and she said that when she went to look at the place there were pictures of Jon and I in the carriage at the hall. We're famous! Thanks again!! You helped to make our day a dream come true!"
~ Nicole and Jonathan von Oy
"I'm writing this letter to express my gratitude and applaud your establishment on a fantastic job. I was in the wedding party for Steven and Susan Fekete on May 17th. From the moment the limo pulled into the parking lot, to the flash of the last picture, your Banquet Coordinator, Pam Leary, and staff made sure nothing was needed or forgotten throughout the evening. The attention to detail, from the hostess taking our drink order before we even got out of the limo (my personal favorite touch by the way), to the fact that the bride and groom could not have wanted or needed anything all night because Pam and her staff were always right there. At one point I was told, "Hold on a sec," and Pam then returned with straight pints to fix my boutonnière that had broken off unbeknownst to me.
Attention to detail is a fantastic thing. I must say at this point, that I have 10 years of experience in the restaurant business, from white cloth service to hotel food & beverage management. I was a Manger Trainer with the Hilton Corporation, and the manager for a few large restaurants out West. One thing I tried to instill in everyone I came in contact with: "Act like you own the place". Your staff does just that. Always smiling, very friendly, and no one said "No". Always, "Let me see how I can make that happen". Especially Pam. What a terrific attitude, respect for the job, and carefulness with which she approaches each task. Thank you very much for a wonderful evening, and treating the best day of my friends' lives as if it were your own wedding day. I wish you all the luck possible in the future and hope to visit you again some day."
~ Kevin D. Kopald
"On Saturday, February 1, 2003, my husband and I attended the wedding reception of Adam and Christy Rybczyk at the Crystal Room. It was the first time we attended a function there and we were both very impressed. The facility itself is beautifully and tastefully decorated and the food was delicious and more than ample. We were even more impressed with the wait staff. Though young, they were very professional and all of the requests from our table were handled with courtesy and so promptly that we couldn't believe it. Keep up the good work and please let the staff know how much we appreciated how hard and efficiently they worked. You can be sure that we will be considering and recommending The Crystal Room for future events."
~ Virginia Konecny
"We just wanted to say thanks for a great job you and your staff did on our special day, April 26, 2008. We will cherish every moment. Everyone said the facility was beautiful, and some people did not want to leave the restroom, ha ha! It was the perfect wedding, and we can't thank you enough for a job well done. The food was great, and the DJ was awesome. He is a great entertainer; everyone loved him, especially the girls! We can't forget the limo driver; he was so professional and catered to our needs. We had an incredible time, and so did everyone else. The family and guests will be talking about it for a very long time. Thanks to you and your staff, everything went smoothly. Keep up the good work! Thanks again!"
~ Hector and Vivian
"Jesse and I were married October 21 last year and we know it's late in coming, we just wanted to thank you for all you did on our wedding day. We also thought we might send along the picture of our cake for your designer's book. It was SO lovely! Exactly what we'd envisioned. We also want to mention that we appreciated that our reception went so smoothly and that we loved every moment of it. The food was phenomenal, and everybody was so great to work with.
We are so happy together and to be married and we want to thank you for adding to the memories of the beginning of our life together. We also had a fabulous time in Hawaii. Your place is so comfortable and beautiful. Thank you for letting us use that for our honeymoon, we would never have been able to afford it otherwise."
~ Briana & Jesse Monda
"Thank you for a beautiful wedding. It couldn't have gone smoother and even when we were running later than expected you all made it work. We received many compliments on the wonderful food and how beautiful The Crystal Room is. The package was amazing, especially with the honeymoon accommodations. Hawaii was a blast!! We'll never forget it. In addition, the limo driver and the DJ were both extremely nice and helpful. We will definitely recommend you to others. Thank you very much."
~ Kimberly & Michael Crowley
"We're home!! We can't thank the two of you enough for providing such a fabulous honeymoon for us! A big hug to you both! We'll always be grateful for such an opportunity. The condo was gorgeous, so well maintained and in the best location. Heavenly! The wedding was incredible and was everything we hoped and prayed for. You really are an asset to your profession and excel in each and every way from the initial meeting to the very end; service, food, presentation, drinks, staff, service, location, etc. You have a 5-star operation and we are blessed to have found you."
~ Lisa N. Phillips
"I just wanted to say thank you again for everything. Our wedding was perfect. I liked the way your bartenders handled the bar and your staff was great. Tell your daughter thank you also. I heard the food was wonderful, but honestly I didn't get to eat more than a few bites. That's my only regret. I tell everyone who tells me they're getting married to call you. I can't wait to be a guest at a wedding there just to eat the food. Thank you again for an amazing honeymoon. Maui is truly paradise and your condo is perfect. We had the time of our lives and hope to get there again some day. We think of you often and look forward to seeing you again some day."
~ Nikki Williamson (Now Nikki Burgos)